A well-balanced meal is full of protein, carbohydrates, and good quality fats that will keep you full for 4-5 hours till your next meal.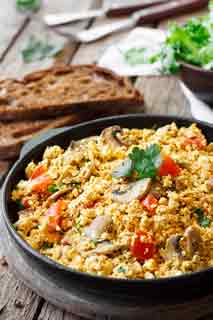 You will need:
1 Tofu Block.
2 Cups Chopped Mushrooms.
1 Cup Chopped Cherry Tomatoes.
1/2 Tsp Paprika.
1/2 Tsp Turmeric.
1 Tbsp Mustard.
2 Tbsp Nutritional Yeast.
Salt, Pepper.
1 Tbsp Olive Oil For Your Non-Stick Pan.
Instructions:
Crumble the tofu with your hands, add paprika, turmeric, and mustard.
Mix them all together with your hands.
Put them into a non-stick pan with all the other ingredients, cook them at medium heat for 10 to 15 minutes, while you stir them lightly. It is ready!
* You can serve it with some avocado, fresh or sautéed baby spinach and a slice of whole-grain bread.
Scrambled Eggs vs Tofu Scramble (per 100g):
Calories: 147 vs 114
Protein: 12.6g vs 12g
Carbs: 1.1g vs 2.8g
Saturated fat: 3.3g vs 1g
Cholesterol: 423mg vs 0mg
Sodium: 124mg vs 7g
Calcium % RDI: 5% vs 35%
Iron % RDI: 6% vs 30%
Namaste